SERVICES
SOLAR BATTERY STORAGE
---
Solid Renewables are approved installers of the Tesla Powerwall; a major leap forward in solar battery technology a nd the most popular solar battery system on the UK market.
The Powerwall system allows you to benefit from your home's solar panels all day, enabling you to maximise self-consumption whilst also providing emergency back-up in the event of a power outage.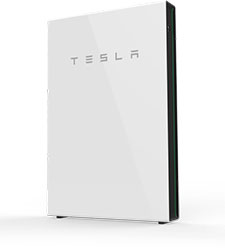 It offers up to 13.5kWh of storage and is capable of delivering 5kW of power continuously and up to 7kW for periods of 10 seconds. It provides excellent value, with the price per kWh of storage being the lowest on the market.
The Powerwall system offers a large amount of storage, which enables you to benefit from 'time of day' charging via Smart Meters: you can charge for free from your solar or from the grid at cheap times – which means that you get maximum financial benefits.
As certified installers, our engineers are regularly quality-checked by Tesla's own engineers to ensure that our installations are always to the highest standards.
The Tesla Powerwall offers beautiful design (either wall hung or ground-mounted), superb efficiency and comes with a 10 year warranty.

How Powerwall maximises your savings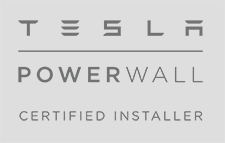 Powerwall has a range of electrical current sensors to monitor energy usage and solar energy production. If your energy costs vary throughout the day – or if you are on a time-of use- rate plan – Powerwall will take this into account. It incorporates smart forecasting software to predict future usage and production, and then optimises the times that it charges and discharges. You can set up a schedule to let Powerwall know the times when electricity is at its most and least expensive (peak / off-peak).
Powerwall learns over time, meaning that you get the very most value from your solar production without having to change your energy consumption habits.